Advice For New Writers: Tips From a Fellow Beginner
I am not a professional writer: I am just a beginner, finding my way and learning about the process of writing every day. I am facing the same difficulties as you. I have so many doubts, questions and fears about this conquest, same as you.
For that same reason, I think it's really important to share because you might help someone in need. Maybe there is someone out there thinking about quitting his writing journey altogether.
If you're a new writer and you're afraid and doubting yourself, this article is for you.
1. You're not alone; Be conscious about the Imposter Syndrome
As a millennial, from my perspective, this is the problem we encounter the most and it's blocking us from the path of greatness. Everyone who starts something new is a beginner and IT'S OK TO BE A BEGINNER. Nobody knows it all.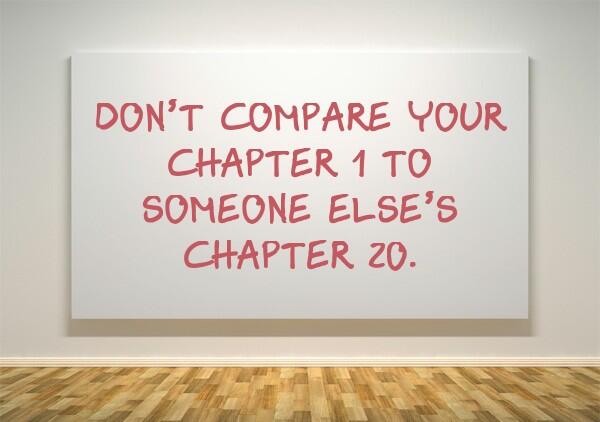 I have quit many things in my life and every time it was because of one of the two reasons: impatience or low self-confidence.
We are experiencing the maximum pressure and expectations due to the massive influence of social media and 24/7 online connectivity. In this day and age, the whole world is your competition and there is always someone doing better than you.
The biggest problem is that, as individuals, we are pressuring ourselves and putting an outrageous amount of weight on our shoulders. When someone else is pressuring you, it's easy to brush it away. As a young man or woman, that's actually the first thing to comes to mind – to oppose the authority. But when you're the one doubting and pressuring yourself, that's the worst type of oppression known to man.
If you start the writer's path, you're going to feel excited and write all day and night. After some time you will encounter the devils, the doubters as I call them. They will whisper in your head: "You're not good enough!" or "You will fail (again)" or "Everybody is better than you", "You will never catch them". This psychological warfare that's raging in your head will be your worst enemy.
You have to recognize the Imposter Syndrome pattern and don't fight it back. That's right – don't fight it back. Just acknowledge it's existence and continue typing. Doesn't matter what you're typing just continue. You're worthy. You can do it. Don't give up!
2. Write something every day: continuous improvement method or Kaizen
When you think about money or wealth in general, usually the first real-world association with money are banks. The first association with the bank is the interest rate.
Albert Einstein has famously called the compound interest as the 8th wonder of the world. Some even say he called it the greatest invention of all time.
Why did he express such a level of appreciation and admiration? What does the interest rate have to do with writing? The most important message is to work and improve your writing skills by continuously writing something every day. Words are the compound interest for you as a writer.
The interest rate model is the most important advice you need to hear in life, at least from my humble perspective. Here is why:
a. An interest rate is always a small number. The tricky part is this number is connected with every day of the agreement and it's always earning money. It's the easiest way of earning money known to man.
b. It's a connection with writing and life in general – small, continuous improvement every day is the best way to succeed in an organic way.
3. Find your way
Remember, it's going to be hard and you should always write at least something each day in order to continually improve your skills. That's the most important thing to remember from this article.
After it becomes your habit to write each and every day, you're going to start dreaming about some form of success with writing. Maybe your goal is to find a job as a writer, maybe to earn a lot of money on a book, maybe to just share with people…
Whatever it is you will have to find a way to reach your destination.
In order to find your way make sure to do the following:
1. Write your own articles and ideas every day.
2.  Find a mentor or companion. Ideally, that person should be much more skilled and qualified than you. In this way, you will find a role model and a mentor. The whole process will be much easier and faster.
3. Volunteer – start by writing for free just to create some sort of a portfolio. Make sure to find real companies, research them online and write for someone with a good reputation.
4. Read every day – each and every one of us is just a funnel of ideas and information that entered our minds. The more you read, the better writer you're going to be.