7 Best Apps to Learn Fast Typing (With All Ten Fingers)
The skill of fast typing is not just a party trick that you can use to impress your friends and colleagues, but something that will significantly improve and speed up the way you work and write.
Using all ten fingers on the keyboard will make you faster and more efficient and reduce the number of mistakes you make. With just a little time and effort, anyone can practice their way to warp-speed typing, which is a prerequisite for speed writing.
Fast Typing is Something You Can't Do Without
In our digital era of close-knit human-computer interactions, it's a given that you know how to type fast. It's not important for work – your friends expect fast text message replies as well! If you take two minutes to type up a simple message, you'll be dubbed a Slowpoke.
Luckily, there are loads of apps on the web to help you acquire the skill of fast typing. We're bringing you an overview of the most popular apps that will enable you to put those idle fingers to work and finally type as fast as you possibly can!
1.   Rapid Typing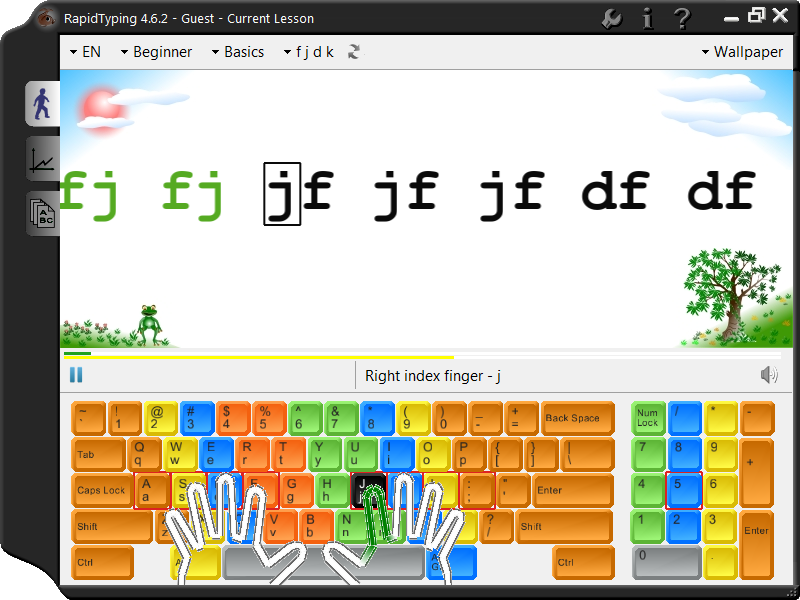 Rapid Typing is one of the most visually effective programs for learning fast typing. You just have to download the latest version of the software from their website, select the difficulty of the exercises based on the knowledge you already have and you're ready to start your lessons!
If you get stuck on a frustrating part of the learning process, the app offers you the possibility to enable a virtual keyboard that will show you how to place your fingers above the keyboard and move them for better and faster typing.
To make sure you don't get bored with the lessons, Rapid Typing app offers you the possibility to set up unique, interesting backgrounds that will make sure your focus is directed at practicing, which makes this program perfect both for children and adults.
2.   Keybr
What sets Keybr apart from from other fast typing apps are stats and smart algorithms that track your practice. According to the results that you achieve as you go through the app, you will be directed to more difficult challenges. This way, Keybr goes around unnecessary repetitions and takes you straight to more difficult exercises.
This app also measures how fast you type specific words and letter combinations. When a letter combination proves to be problematic for your typing, it will appear in your exercises more often, until you get a complete grip over it.
Unlike most fast typing programs that have pre-set exercises, Keybr adapts to your needs and skill levels as you go.
3.   Rata Type
Rata Type is another high-quality app for fast typing and learning how to type with 10 fingers. The introduction to this program starts with basic preparation exercises, which include:
how you should sit at your keyboard
how should your arms be placed
where should your fingers be placed
aspects of typing you should focus on
Next, you will be directed to a test of your skills, which will determine your knowledge levels. This data will be used to determine the difficulty of exercises that the app will present to you. This helps to avoid basics for people who are ready for tasks that are more challenging.
4.   Stamina Typing Tutor
Stamina Typing Tutor is a fast typing app that's equally used for absolute beginners, as well as advanced keyboard users. Next to the standard position of fingers on the keyboard, this app will enable you to learn how to type faster using an alternative finger placement scheme that reduces pressure and fatigue of the hands.
Instead of using the usual finger placement scheme ASDF, you can learn how to type fast by placing your fingers on SDFV and NJKL, which is a much more natural position for your hands and will increase its fatigue tolerance.
You can also include various images, animations and sounds in the installation of this app, which makes learning more fun and relaxed.
5.   Typingweb
Just like its name says, Typingweb is a web-based app, so you won't have to install any software on your computer. As you go through exercises on the app, Typingweb will record your results and allow you to see which aspects of typing present a difficulty to you and where you need further instructions.
Based on these results, the app will offer you a list of lessons that you need to tackle to improve your typing speed.
6.   Space Bar Invaders
Space Bar Invaders is not your usual fast typing learning app, but it's definitely among the most entertaining ones. The app is a combination of a learning program and the popular computer game Space Invaders. In order to successfully fend off the attack of uninvited cosmic guests, you need to type words as correctly and quickly as possible.
This is an ideal way not only to make typing practice fun for kids, but also for adults who will reminisce on this popular game from amusement parks and first personal computers.
7.   Type Racer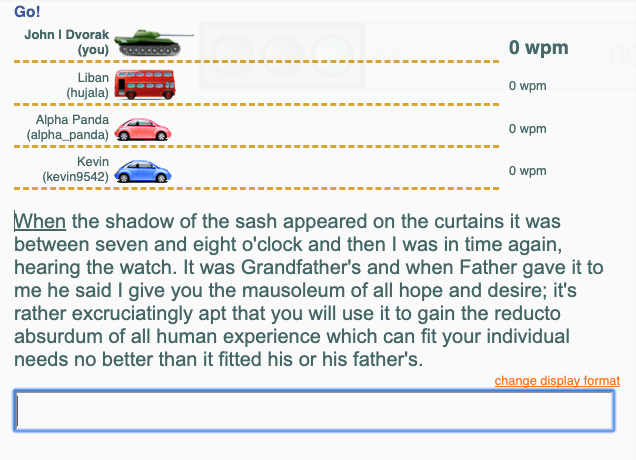 It's a well-known fact that some people learn faster and easier if they're in a competitive environment. If you're one of these people, the best way you can learn fast typing is the app Type Racer. It's a platform where you can compete with other typers and fight to get the fastest possible results from typing quotes from books, movies and songs.
The app itself is very visually appealing, because you accelerate your sport car to the goal by typing correctly and quickly. The app is also very popular: since its launch in 2008, over a 100 million contestants took part in Type Racer.
---
After you select the app that will fit your needs and preferences, the only thing left to do is to practice on the daily. You should begin to see improvements after just a couple of days.